YOU HAVE DOUBTS? DO A TEST!
How to convince you our solutions are right on to the point?
At
3P Design
, we believe a test is worth a thousand words. This is why we offer a free trial.
This way you can assess our products first-hand and see how useful they are
and how they can change your working life day in day out.
But be warned! Once you get accustomed to our solutions, you can't stop using them!

ThinPATCH
Have you ever experienced problems in tracing RJ45 patch cords? Do your patch panels get messy to the point of looking like "spaghetti junctions"? Then the PATCHSEE "intelligent Patch cord" solution is for you. Identify your RJ45 cables at the speed of light! Completely compatible all existing installations (UTP or FTP - Cat.5e, Cat.6 or Cat.6A)
Read more : http://www.patchsee.com/
FREE SAMPLE KIT
The demo kit contains a ThinPATCH RJ45 ultra slim patch cord, a demonstration light injector and instructions. You will be able to evaluate the functionality and benefits of our solution

Yes,
I want to test
ThinPATCH !


PATCHCLIP
Removable clips to change the color code of RJ45 cables easily and quickly.
>
16 colors available for a comprehensive identification of network applications or locations
>
First level of visual identification, practical and cost-effective
>
Protects the tab on the RJ45 connector whilst handling the cable
>
Facilitates the access of the RJ45 boot in high density environment
Read more : http://www.patchclip.com/
FREE SAMPLE PACK
The demo blister pack contains 16 clips (1 of each color) with a blank "color chart" which at a glance summarizes the color code for your applications and their matching colors (ideal in racks or frames)

Yes,
I want to test
PATCHCLIP !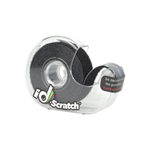 ID-SCRATCH
Pre-cut every 3cm, easily torn off by hand without any tool. Just use the required length. Astonishing tensile strength (+10Kg) even pre-cut. The small format makes it simple to always keep it within easy reach.
SAMPLE KIT - YOU GET
:
Dispenser with roll
Read more : http://www.idscratch.com/

Yes,
I want to test
ID-SCRATCH !


ECO-SCRATCH
The most cost-effective: 10 meter roll, no redundant packaging, flexible, thin, its small format is ideal for all sites. The perfect combination to provide all requirements in quantity and quality at a good price.
SAMPLE KIT - YOU GET :
1 roll of ECO-SCRATCH of each color (1 Black - 1 Red - 1 Blue)

Read more : http://www.patchsee.com/attache-cable-eco.php


SAMPLE KIT UNIT PRICE - Delivery charge included

Yes,
I want to test
ECO-SCRATCH !

PLUGCAP
Indispensable to protect the pins of the RJ45 connectors whilst deploying and patching cables. BUT THAT IS NOT its only benefit, as a matter of fact the design and shape make it easy to use the "eye" in order to facilitate pulling RJ45 cables over long distances under false floors, suspended trays in the ceiling, cable pathways etc....It also gives the possibility to sort out the cables that are on stand-by in the racks and identify them quickly due to the unmissable color.
Read more : http://www.plugcap.com/
FREE SAMPLE KIT
The demo kit consists of a blister pack including 3 PLUgCAP. Please note that all PATCHSEE RJ45 cables within the DIRECTPATCH range (all cables longer than 5m) are equipped with 2 PLUgCAP.

Yes,
I want to test
PLUGCAP !


WALLPATCH
Wall-mounted, WallPATCH is already in place and will stay that way!
A single reference for all your installations
Adjustable length from 0 to 4m (13ft), WallPATCH covers 95% of the length requirements
Easy to install and use: a self-adhesive case very easy to install on any type of surface / 4 outputs available: install it even in every corner
Read more : https://www.wallpatch.eu/

Yes,
I want to test
WALLPATCH !
2
PLEASE FILL IN THE FORM BELOW

We are committed to protect your personal information and we never share your details with other companies or individuals outside 3P Design.